Tomorrow is my second brew day with Bröeders and we're doing another original recipe I've put together just for this occasion, a robust coffee porter.
I started from scratch instead of using the my standard base recipe for Tanuki, The Legendary Shapeshifting Porter, because I didn't have the recipe with me and also because I wanted to design a porter recipe specifically to work within the constraints of the limited malt selection here in Argentina. (Malts, hops, yeast – all of these are harder to get here than in the US.)
Crafting the recipe was pretty straightforward, but selecting the coffee? Well, that took some doing. Here's how it happened, with a little visual tour of Buenos Aires to accompany…
Friday, February 27
Stop #1: LATTEnTE, Palermo Soho
Good coffee isn't super-popular here like it is in US cities like LA, SF, Portland, and Seattle. Many beans aren't roasted by people who really care about what they are doing, and most beans are roasted with sugar. I want a bean that's roasted with care, no sugar added. With some research I have a shortlist of places to try.
My first destination is my favorite coffee shop for a macchiato in Buenos Aires: LATTEnTE.
Unfortunately, their bean isn't quite what I'm seeking for this brew, so I move on.
Saturday, February 28
Stop #2 Mercado Orgánico, San Telmo
About a month ago I visited San Telmo for the first time. It's kind of a historic district in Buenos Aires, with lots of old buildings, antiques, and some really cool street art, like this piece: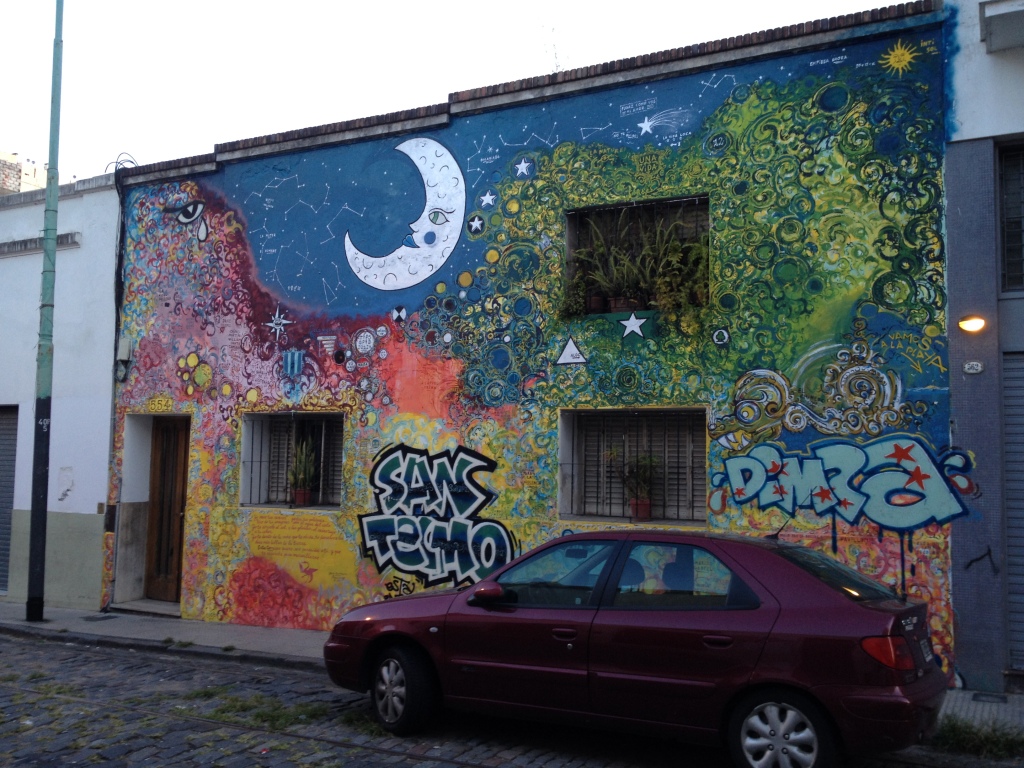 During that visit I discovered an organic market hidden in a house down a side street, which is only open on the weekends. That market is my next destination in my search for a high-quality roast to use for our coffee porter.
I enter the shop and exchange warm greetings with the people who work here. They are kind, honest people and I find their Spanish relatively easy to understand, which is great. I stumble through my own poor Spanish, trying to explain the kind of coffee I want, what I intend to do with it, and how much I need. (About 750 grams.)
They have a couple different kinds of coffee, but not in the amount I require. The only kind of which they have enough is their "higo" coffee. It seems like a good deal to me, but I want to visit another nearby market before I commit, so I ask them to hold it for me, which they agree to do.
But on my way out I start talking with a girl who tells me that "higo" is Spanish for "fig." It's fig coffee! Well, that's not what I want. So I tell them I'm not going to buy it, and head to my next destination.
Stop #3: Coffee Town, San Telmo
I'm in the San Telmo Market. This place is home to a lot of antique shops and food/produce stands. It's also the home of  artisanal coffee roaster Coffee Town.
As soon as I arrive at their shop I am excited. They have a lot of different beans on their menu (look at all of those bags of beans on the shelves!) so here I will have my pick.
I sit down at the counter. Fortunately, the fellow working here today – Bryan – speaks English, so I can describe to him what I want in detail:
"I'm looking for a bean to use to brew a coffee beer. I want a medium roast. I've found that dark roasts are usually too strong and oily for the beer. Medium has worked well in the past. I've had good results with beans from Guatemala. In terms of aroma and flavor profile, I want to avoid beans with strong fruity and floral elements. I want a bean that highlights chocolate, sweetness and sugar, nuttiness, grains and cereals, and a distinct roasted quality."
(Check out the coffee taster's flavor wheel.)
Bryan goes away to consult a coworker before making a recommendation. While he's doing that I make friends with the fellow sitting next to me. His name is Gabo, he's from England, and he's into craft beer and coffee. So I enlist him to help me choose the bean for the coffee porter.
Bryan presents us with three options: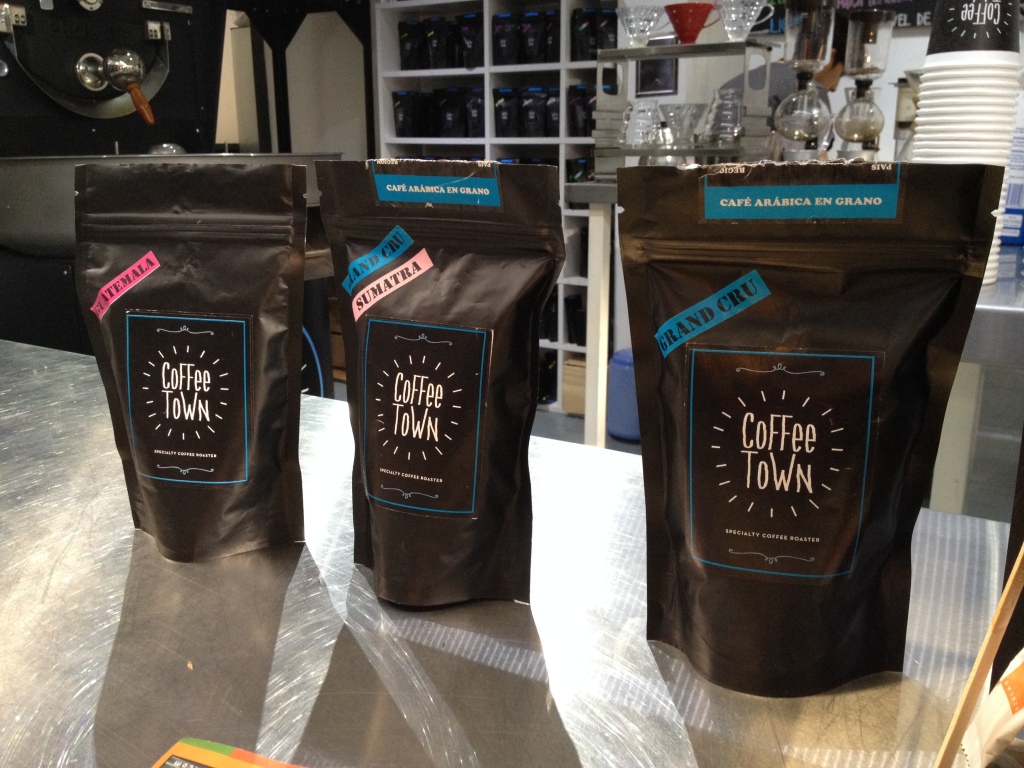 Gabo and I smell each sample multiple times. We agree that Grand Cru just doesn't have what it takes, so it's out. Guatemala is good, but not distinct enough. And I've done coffee porters with Guatemalan beans before and want to try something new, and the Sumatra has a nice caramel, honey, peanut butter profile. We both agree that the Sumatra is the way to go.
Unfortunately, Guatemala is one of the more expensive beans on the menu. 750 grams is going to run me 1200 pesos, which at the current exchange rate is about $100 USD. I don't have that kind of cash on me today, so I'm going to have to come back later to make the purchase.
As long as we're here Gabo and I decide to try the Grand Cru and the Sumatra, prepared with AeroPress (as recommended by Bryan), served in snifters.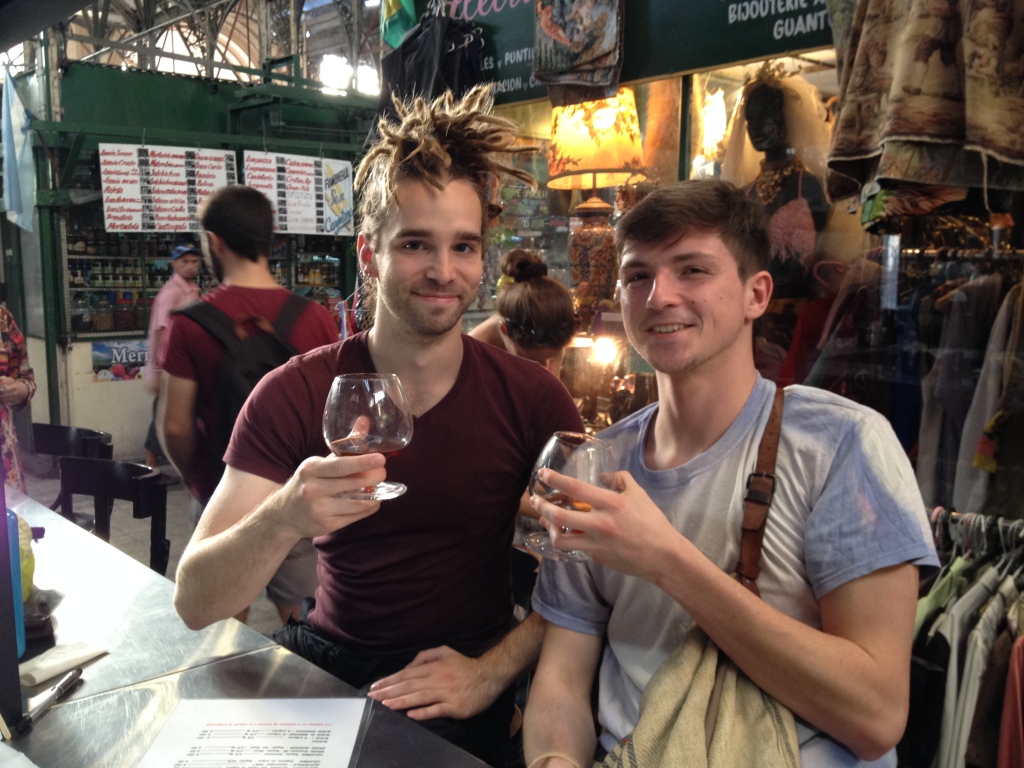 We return to the organic market so that I can pick up my vegetables and we can enjoy a few bottles of cerveza artesanal from Dos Patrias while we chat.
The price point of the beans at Coffee Town is sticking in my mind. I don't want to spend $100 USD on coffee for this beer. So I need to look for an alternative, less expensive bean…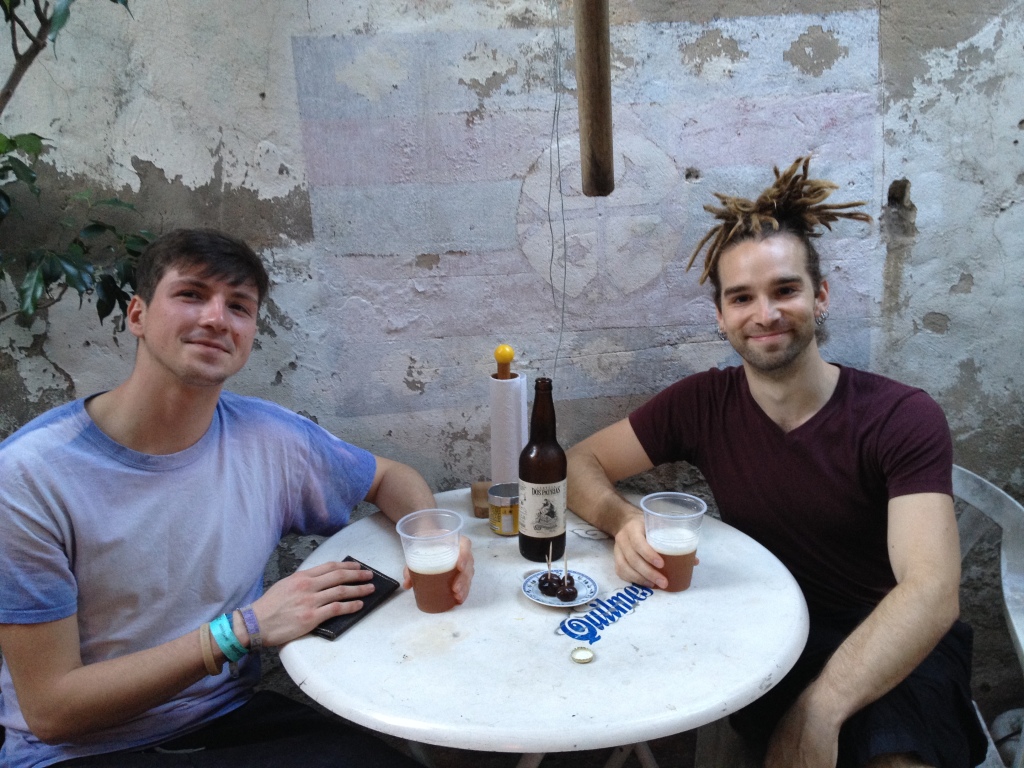 Sunday, March 1
Stop #4: Full City, Palermo Soho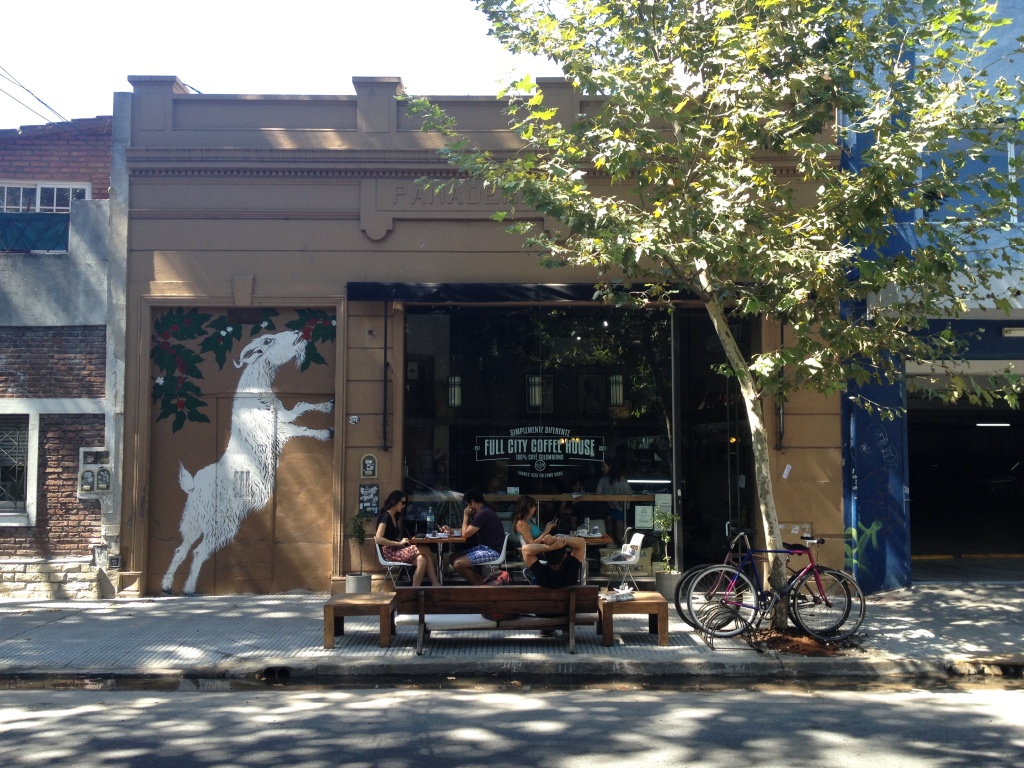 I roll into my regular weekend coffee and "get some work done" place on Sunday morning and ask them if they sell beans. They do! I talk for a while with Bern about what's available and we smell and taste their selection.
The options are good here and, what's better, these beans are around 1/4 of the price of the beans at Coffee Town, with none of them costing more than 340 pesos per kilogram! I'm sold.
I decide to come back on Friday, the day before brew day, to make my purchase.
Friday, March 6
Today I arrive at Full City around 11 AM and the place is packed! Allan, the owner, arrives at the same time as me and he's carrying a large sack of freshly roasted beans.
"Fresh" as in: roasted this morning and still warm!
I smell all of the beans they have in stock, just to be certain, and the fresh beans are the clear choice, with a lovely round caramel aroma.
Allen weighs out my 1 kilogram order, grinds the beans on the french press setting, then seals the grounds in a bag and applies a label. I leave the shop a very happy brewer, excited to make beer with these beans tomorrow!
Check out our Facebook page for the full photo gallery.