I arrive in the evening and the place is busy! It's fresh hop brew day and lots of people are taking advantage of the recent shipment of fresh whole hops. I did not know that was happening and have not planned on it, so I stick with my original plan to brew a brown ale.
Since this is my first time not brewing on my own equipment I figure there will be a lot to learn, so I decide to simplify the process and brew one of their recipes while I learn the ropes.
The place is really relaxed. There is music playing and they serve beer on tap. There are several tables with chairs for hanging out. People brought their own food. The main room is organized into the "lounge" area, the brewery, the bottling area, and the washing area. Everyone seems to be having a good time.
All of their recipes are extract + specialty grain. I was hoping to do all-grain, but their brewery isn't setup to do mashes, so that is out of the question. They have a 6-kettle system with shared water supply, heating, and draining. It is pretty cool. I'm used to a direct fire heating method where the kettle is heated from underneath by a flame, but their system heats the wort via steam that runs through the interior walls of the kettle!
Overall everything goes smoothly. I do spill some liquid malt extract early in the night because I am trying to multitask. Fortunately, Chris, the head brewer who is on duty managing the brewery, is cool about it. Apparently this is a newbie mistake that many first-timers make!
Brewing here is way different than brewing on Bushido's equipment for one simple reason: they do all the cleaning and sanitizing. This really reduces the amount of work I have to do!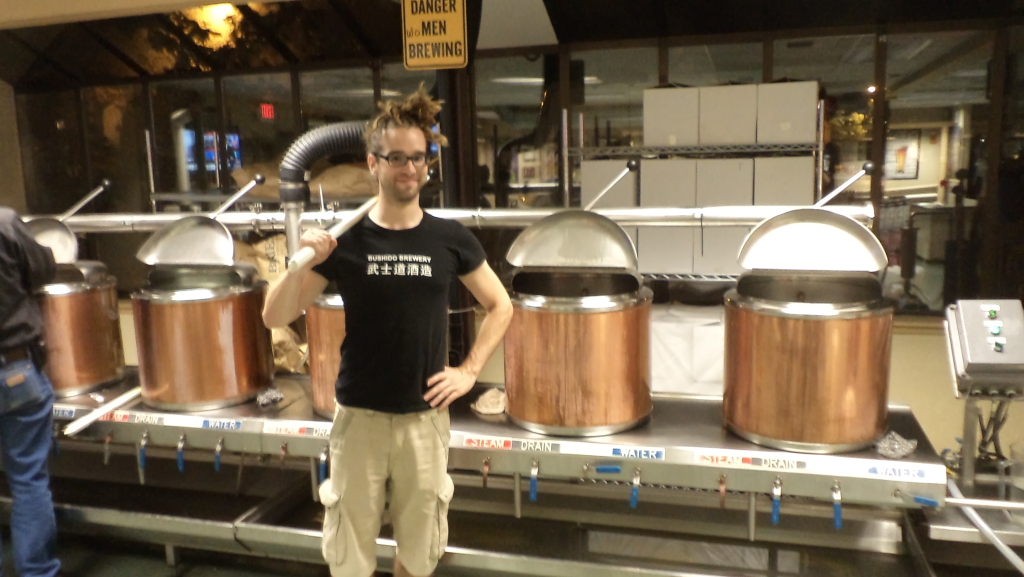 When the boil is done I work with Chris to transfer the wort through the heat exchanger and into the fermenter (i.e. I open a valve when he tells me to). After chilling the wort is oxygenated on its way to the fermenter via an O2 tank that is hooked up to the line. What a sweet setup.
The brew night is a success and I can't wait to taste the final product!
Check out our Facebook page for the full photo gallery.